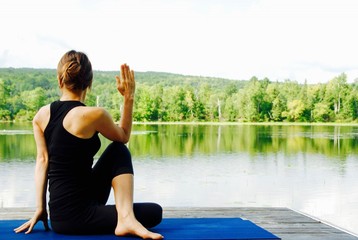 Choosing a yoga practice that works for you is fundamental if you are going to experience the health benefits of yoga and with the many different styles of yoga around this has become quite tricky. So where do we start? The answer is in a yoga class for beginners, so that you can learn how to take instructions to move your body into the different postures in any given sequence and of course the key to all yoga postures is the breath.
Why is the breath so important in yoga Postures?
If we look at the many traditional yoga styles of practice such as hatha yoga then we see that the instruction is always to breathe as deep and comfortably as possible when moving the body in and out of postures. This sounds really easy but you will be surprised at just how hard this can be and in fact at first you find yourself all over the place.
When we use a breathing technique in yoga then the mind becomes concentrated on the movement of the body and this helps reduce the possibility of injury by allowing you to really feel deeply as the facia of the body begins to lengthen. If we are not focussed on our breathing then we will mindlessly moving through a set of body shapes that might look impressive to the eye but in reality they are not really creating any long term benefits.
If you are looking to start a yoga practice that leaves you feeling peaceful and relaxed after class then a simple rule of thumb when attending any yoga class is: does the teacher use the breath as the guide or are they simply barking instructions out that are all aimed at getting you into some pointless body shape that does not incorporate breathing into it slowly and with a fully concentrated mind.